Posted on Nov 6, 2018 in
Forex Tips
TALKING POINTS – CHINESE YUAN, US DOLLAR, TRADE WAR, FED, AUSSIE DOLLAR
The Chinese currency is on the ropes against the US Dollar

It is hardly alone there. US monetary policy and economic outperformance have seen to that

Still, a cut in Chinese buying power will have baleful effects elsewhere
Fourth-quarter technical and fundamental forecasts from the DailyFX analysts are out now!
China's currency has fallen sharply and consistently against the US Dollar this year, reaching lows not seen for a decade last month. Indeed the greenback is once again flirting with the psychologically crucial CNY7.00 level, raising much market speculation as to whether Beijing would allow its currency to weaken beyond that point.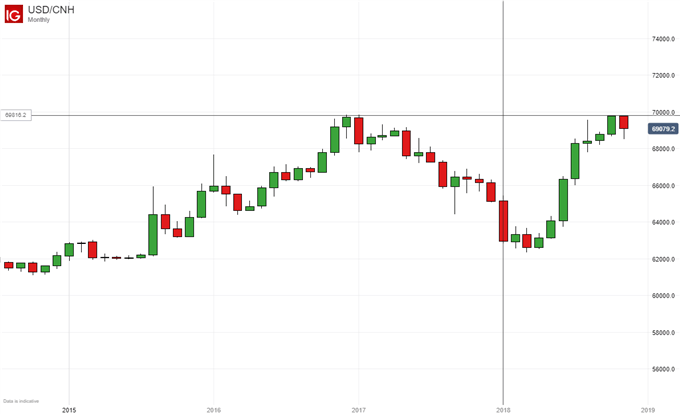 So why exactly is the currency so feeble, and what might a prolonged period on the ropes mean for foreign exchange markets more broadly?
Well, in examining the Yuan's long fall against the Dollar it is important to note that this could very well be as much a tale of the latter's strength as the former's weakness. Buoyed up on Article source: https://www.dailyfx.com/forex/fundamental/article/special_report/2018/11/06/Yuan-Weakness-Seems-Justified-Currency-War-Looks-Unlikely.html