Posted on Sep 20, 2018 in
Forex Tips
Talking Points – Argentine Peso, Turkish Lira, Brazilian Real, South African Rand, Russian Ruble, Indian Rupee
Fed rate hikes, trade war fears and emerging market contagion concerns rattled developing nations

Since the beginning of 2018, the Argentine Peso declined over 50% while Indian Rupee fell over 11%

We observe the outlook for USD/ARS, USD/TRY, USD/BRL, USD/ZAR, USD/RUB and USD/INR
See our study on the history of trade wars to learn how it might influence financial markets!
Emerging markets have become a hot topic for policymakers and investors as fears of contagion and tightening global credit conditions resulted in acute depreciation of their currencies. Below, you can see the impact of those concerns on the Argentine Peso, Turkish Lira, Brazilian Real, South African Rand, Russian Ruble and Indian Rupee since September 12th.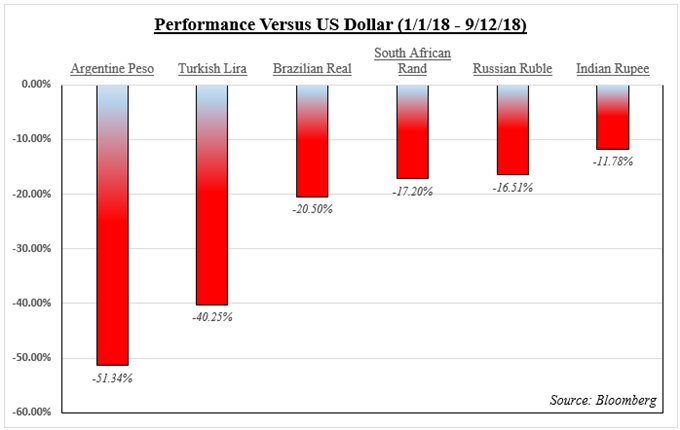 This is a primer that will offer a brief fundamental and technical overview on each highlighted currency. A vulnerability that applies to all of them is the Fed continuing to raise interest rates into 2019.
Article source: https://www.dailyfx.com/forex/fundamental/article/special_report/2018/09/20/What-do-Emerging-Markets-Argentine-Peso-Indian-Rupee-Face-Next.html