Posted on Oct 11, 2018 in
Analyst Recommendations
USDJPY Elliott Wave Talking Points:
An Elliott wave zigzag from March 2018 has satisfied minimum expectations to finalize on October 4

This zigzag appears to have completed the 'D' leg of an A-B-C-D-E Elliott wave triangle

A correction to 107-110 is higher probability
The sideways to choppy move higher in USDJPY over the past several months has been confusing to track in real time. That type of price action is typically indicative of a corrective wave. It is best to wait for clarity in levels before proceeding to trade them.
How does Elliott Wave Theory help us identify the reversal on USDJPY Chart?
The trend higher which began in March 2018 appears as a clear zigzag pattern labeled ((a))-((b))-((c)) where ((b)) is a triangle pattern. We are confident this is the higher probability pattern as the May to July 2018 wave terminated within the 1.618 level (purple arrow). This is a common bound for the second wave of a triangle. Once wave ((b)) finished, USDJPY jumped quickly to new highs, which is another common characteristic of post-triangle behavior.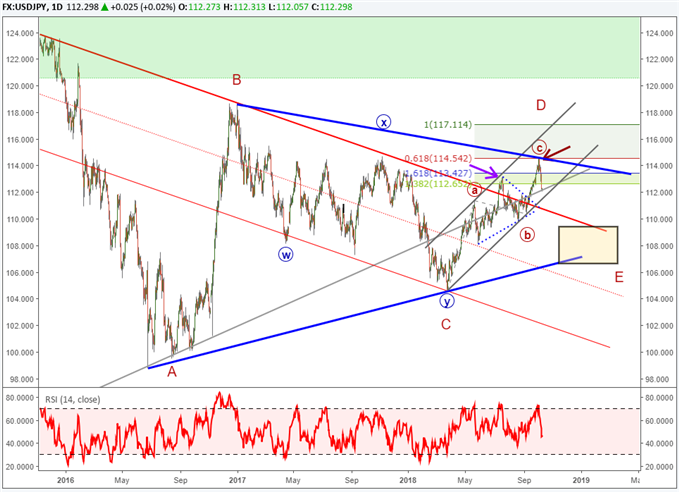 The jump higher out of
Article source: https://www.dailyfx.com/forex/technical/elliott_wave/usd-jpy/2018/10/11/correction-to-below-110.html