Posted on Oct 30, 2018 in
Analyst Recommendations
HANG SENG INDEX TAIWAN INDEX – TALKING POINTS:
Hang Seng Index 1-day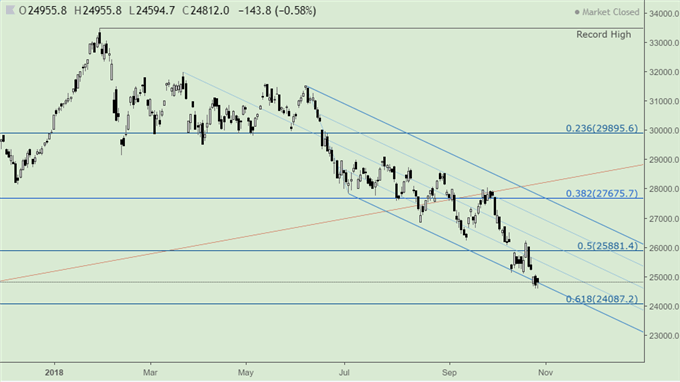 Last week, Hang Seng Index (HSI) tested and failed to break above a long-term resistance level of 25,881, 50% retracement of the 2016-2018 rise. It extended losses further and set a 17-month low of 24,589 on Friday.
The key question in the following few days will be whether the index can hold at the 25,000 level or at least within the channel that it has held since June. On Monday, HSI found some support at 25,000, where the lower band of a parallel converges on a psychological level.
Technical Forecast for HSI: Neutral
Taiwan Index 1-day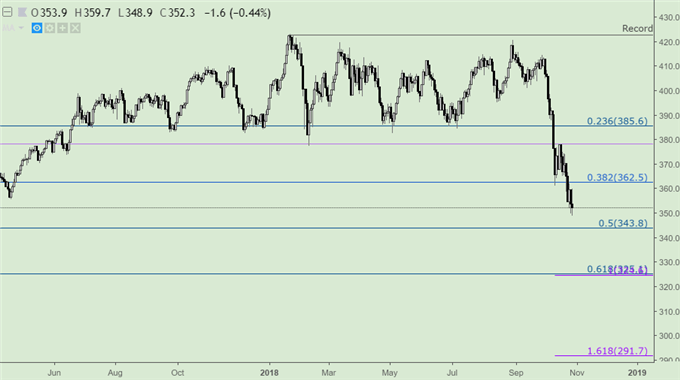 Last week, Taiwan Index (TWI) dropped below a long-term resistance level of 362.5, 38.2% retracement of the 2015-2018 rise. The index has been heading
Article source: https://www.dailyfx.com/forex/technical/article/special_report/2018/10/29/Technical-Forecast-for-Hang-Seng-Index-Taiwan-Index.html