Posted on Oct 27, 2018 in
Analyst Recommendations
GBPUSD Technical Highlights, Prices and Analysis
GBPUSD Four-Hour chart oversold.

Daily chart dominated by lower highs and lower lows.
We have recently released our Q4 Trading Forecasts for a wide range of Currencies and Commodities, including GBPUSD with our fundamental and medium-term term technical outlook.
GBPUSD Drops Nearly Three Cents This Week
Cable is down the best part of three cents this week and remains in oversold territory (four-hour chart) but is attempting to rally off its seven-week low. The RSI indicator – at the bottom of the chart – is trying to push out of oversold territory and there remains a possibility that cable may retrace a gap on the chart back to Wednesday's low at 1.28671. Lower highs remain dominant on the chart and cable needs to break and close above 1.29085-1.29221 to regain a semblance of strength.
GBPUSD Four Hour Price Chart October 26, 2018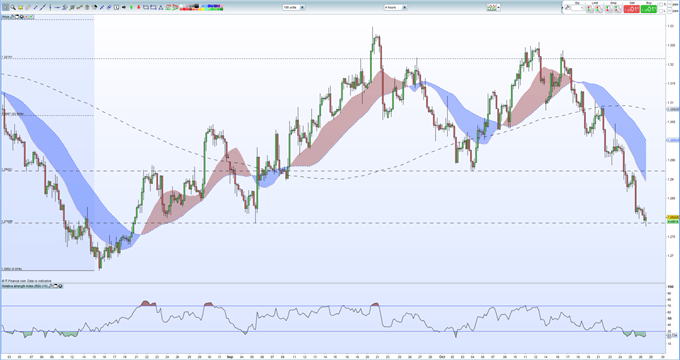 The daily GBPUSD chart continues to paint a negative picture with a clear two-week downtrend in place. There are six consequtive lower highs and lower lows in place with Thursday's candle unable to break
Article source: https://www.dailyfx.com/forex/technical/article/fx_technical_weekly/2018/10/26/GBPUSD-Short-Term-Chart-Looks-Oversold.html