Posted on Sep 30, 2018 in
Forex Tips
The third quarter is now in the books, and the revival of market volatility and uncertainty around key thematic influences carries over into the fourth quarter of 2018. With fundamental issues around US-led trade wars, Brexit, the Italian government, Turkey, emerging market contagion, among others lingering, the final three months of the year should produce opportunities across asset classes.
See all of the DailyFX Trading Guides from the Quarterly Forecasts to the Top Trading Opportunities, How to Trade Event Risk, Building Confidence in Trading and so much more.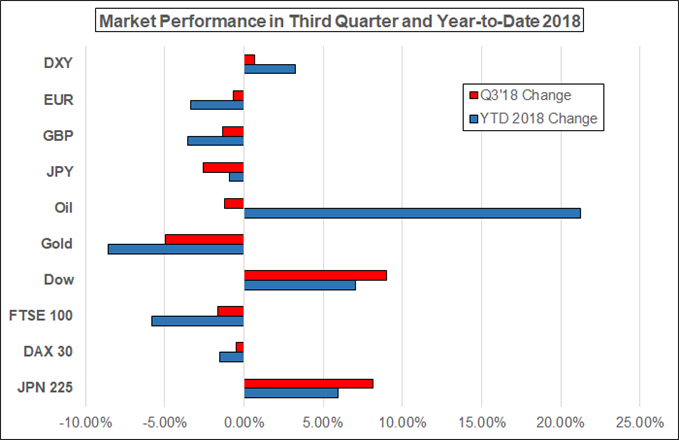 Dollar Feels Pressure of Its Trade Wars, Politics, Fed
The US Dollar has proven resilient in the months since US President Trump declared that "trade wars are good, and easy to win." It is possible investors ignore this enormous burden until it starts to have its tangible impact on the economy – but speculative markets rarely wait.
Euro Stabilization in Q3 May Offer Base for a Rally in Q4
Insofar as we held a neutral outlook for the Euro in the past quarter, we are slightly more optimistic on the
Article source: https://www.dailyfx.com/forex/fundamental/article/special_report/2018/09/29/Fourth-Quarter-Forecasts-for-Dollar-Euro-Oil-Equities-and-More.html