Posted on Nov 7, 2018 in
Forex Tips
TALKING POINTS – Brazil, BRL, IBOVESPA, Bolsonaro
Jair Bolsonaro won the presidential election in a landslide victory

Brazilian Real and local equity markets rejoiced from the outcome

Optimism may

be short lived

– Bolsonaro faces potential resistance
See our free guide to learn how to use economic news in your trading strategy!
The Brazilian Real and benchmark IBOVESPA equity index – as forecasted – soared when Brazil's most controversial election since 1985 finally produced a victor: Jair Bolsonaro of the Social Liberal Party (PSL). Bolsonaro officially takes office on January 1, 2019.
Brazilian Real Rising on Bolsonaro's Popularity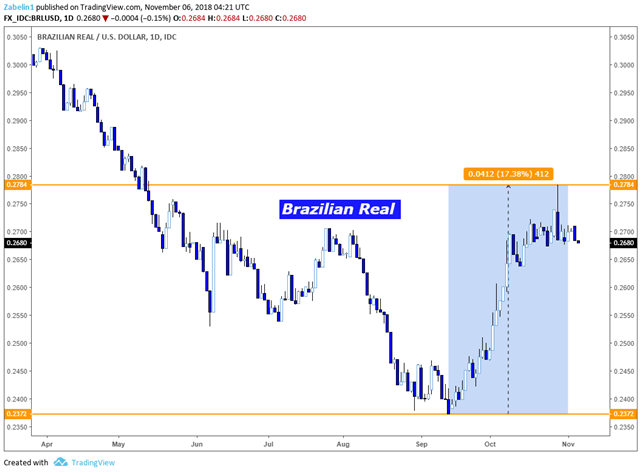 He cruised to victory garnering 55.54% of the vote, a 10-point lead over his counterpart Fernando Haddad of the Worker's Party, who came in at 44.46%. In the Senate, the PSL gained four seats – up from zero – and in the Chamber of Deputies, Bolsonaro's party holds 52 seats, up from 44.
However, the National Congress of Brazil – the federal government's legislative branch – is fractured
Article source: https://www.dailyfx.com/forex/fundamental/article/special_report/2018/11/07/BRL-and-IBOVESPA-Soar-on-Bolsonaro-Win-Optimism-May-Not-Last.html