Posted on Oct 25, 2018 in
Forex Tips
What Effect will Brexit have on Pound, FTSE, and other London Stocks?
The Brexit talks between the EU and the UK could result in several different solutions or no deal at all

UK Prime Minister Theresa May's cabinet is due to meet next week before the two-day EU summit

Here's how the British Pound, the FTSE 100 index and Gilts might respond
Brexit Scenarios
The Brexit negotiations between the EU and the UK could lead to several possible outcomes, ranging from the UK remaining in the bloc to no deal at all, resulting in the UK crashing out of the EU on Friday March 29, 2019.
Traders in GBP (British Pound), the FTSE 100 index of London stocks, UK government bonds (Gilts) and other assets therefore need to be aware of the various alternatives and decide which assets to buy and which to sell.
At Capital Economics, a London-based consultancy, analysts have produced the following detailed table listing the known possibilities: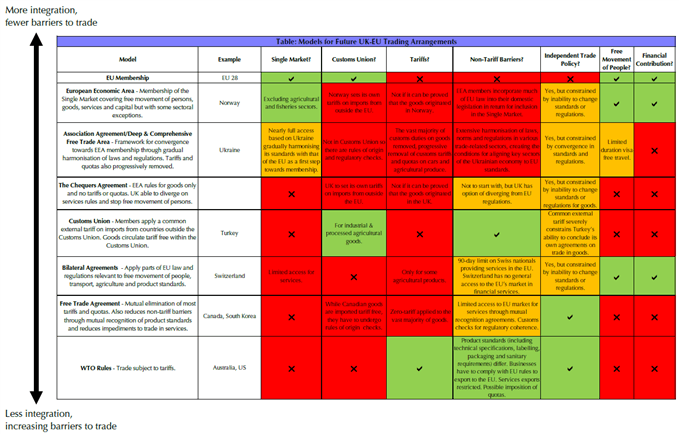 Source: Capital Economics. You can click on the table for a larger image.
Market moves so
Article source: https://www.dailyfx.com/forex/fundamental/article/special_report/2018/10/12/Brexit-Analysis-How-GBP-Stocks-Might-React-to-Alternative-Outcomes.html