Posted on Sep 23, 2018 in
Forex Tips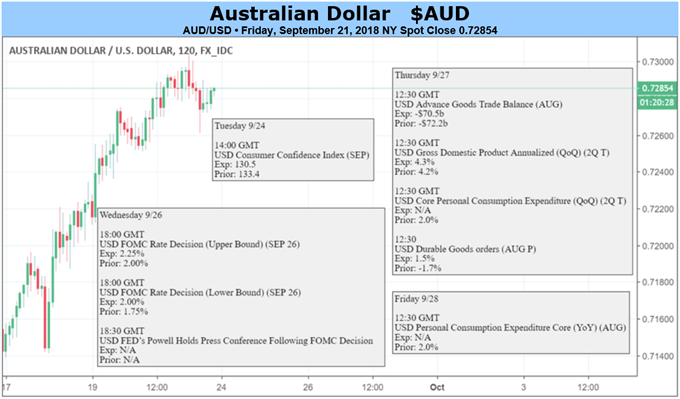 Fundamental Australian Dollar Forecast: Neutral
Australian Dollar Talking Points:
The Australian Dollar has posted some quite strong gains in the past three weeks

This is somewhat surprising given ongoing trade tensions

The coming week could see those gains level off
Find out what retail foreign exchange traders make of the Australian Dollar's prospects right now, in real time, at the DailyFX Sentiment Page
The Australian Dollar has risen to three-week highs against its big US brother, getting perhaps even more of a respite than I predicted this time last week.
This is perhaps surprising in an environment of terrible trade relations between Washington and Beijing. Australia has after all vast economic, political and/or security ties with both nations and can sometimes seem unfortunately sandwiched between the two. Rising tensions there don't promise Australia any good.
However, some investors are clearly betting that events will stop short of a full-blown trade war, and that might be translating into a bit of current Aussie Dollar strength. They'll also have seen recent strong Australian economic numbers,
Article source: https://www.dailyfx.com/forex/fundamental/forecast/weekly/aud/2018/09/21/Australian-Dollar-Gains-May-Be-Stymied-By-Fed-Meet-Aftermath.html